Took advantage of a cheap Tiger Airways deal to enjoy a short trip to Kuala Lumpur with a few of my camp-mates. I had (and have) been so focused on earning a stable income through my domaining and online content business that I have neglected my social life.
Not that I'm completely at fault though. Credit has to be given to the military for wasting my weekdays.
Being Too Soft
On the same note of resenting the military, I have been too soft with certain idiots back at camp, namely from the third platoon. Apparently crying like a pussy when he was charged and detained in detention barracks, and when his girlfriend broke up with him due to his obnoxious behavior, didn't teach him any manners. I have also been too kind with a numskull of a financial planner whom I have told months ago that I was no longer interested in whatever plans he had to offer.
Ironically, Being Too Hard?
It is time to sharpen my acid tongue and be brutally straightforward. It is not my business to hold my tongue when certain people are to blind to see the boundaries they have trespassed. At the same time, ironically, I ought to soften my approach when dealing with friends who sometimes annoy me. As quoted from Matthew: "Logen, you had gunpowder for breakfast again?". I will redirect my 'gunpowder' at assholes in the future.
Kuala Lumpur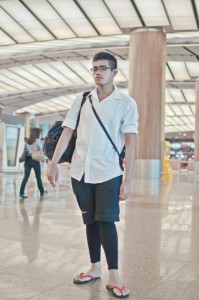 That said about assholes, what about my trip to KL? The shopping and food was good. The nightlife there, namely Zouk nightclub, was bloody awesome. The Flaming Lambo's were cheap and us drinking it gathered lots of attention from the patrons surrounding the bar.
The best part of the trip was the company. Travelling with two himbos and two Jurongers who nearly missed their flight made for good entertainment and companionship.
So photo insistently taken by JX, here I am in leggings in Changi Airport…
Is it really that strange?
Logen